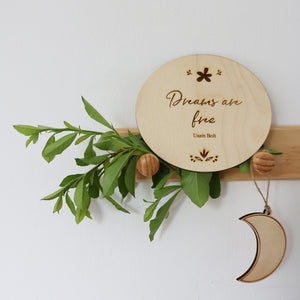 Usain Bolt
Regular price $16.00 Sale
"Dreams are free"
Born in Jamaica, Usain Bolt or "the fastest man alive" as he is often referred to is one of the most celebrated Olympians of all time. His lightening bolt speed caught the eye of his school coach and Bolt began competing professionally at aged 15. In 2002, Bolt won the 200-meter race making him the youngest world-junior gold medalist ever.

In 2008, Usain Bolt became the first person ever to win gold in the 100m, 200m and 4x100m relay whilst setting new world records for all three events.
.
Part of our 'Inspiration Wall' collection, this plaque has been designed to celebrate inspirational black figures and motivate anti-racist conversations within the home. We must all do our part in making this world a better and equal place. By purchasing this plaque, I pledge to donate 100% of the profit to Imkaan (a
UK-based, black feminist organisation addressing violence against women and girls
).
Plaque measures 18cm x 14cm x 4mm and is made from birch. Available as either a hanging decoration or a with gludots to stick on to the wall.