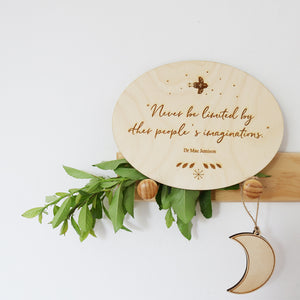 Dr Mae Jemison
Regular price £15.00 Sale
"Never be limited by other people's imaginations"
The youngest of three children, Dr Mae Jemison grew up in Chicago with her carpenter father and school teacher mother. From a very young age, Jemison displayed incredible talents and abilities and took an active interest in astronomy. She secured a scholarship to Sanford and later attended Cornell Medical school where she qualified as a medical doctor. She later worked as an area Peace Corps medical officer for Sierra Leone and Liberia where she undertook medical research. In 1987, Jemison opted for a career change and applied to NASA's astronaut program.
In 1992, Dr Mae Jemison became the first black woman to travel into space.
.
Part of our 'Inspiration Wall' collection, this plaque has been designed to celebrate inspirational black figures and motivate anti-racist conversations within the home. We must all do our part in making this world a better and equal place. By purchasing this plaque, I pledge to donate 100% of the profit to Imkaan (a
UK-based, black feminist organisation addressing violence against women and girls
).
Plaque measures 18cm x 14cm x 4mm and is made from birch. Available as either a hanging decoration or a with gludots to stick on to the wall.